Olive Service Apartments in Gurgaon
Top-rated self-catered Service Apartments in Gurgaon – Non Sharing, Private Apartments spread across prime areas, all units come with individual Kitchens & Living Rooms for Flexible Rentals – across Studios, One, Two & Three Bedroom Serviced Apartments!

We are the preferred choice of leading Fortune 500 Companies looking for Corporate Housing in Gurgaon of their Executives visiting the city for short-term assignments and long-stay relocations as we offer both comfort & luxury in affordable budget.

Primary Areas – DLF Cyber City, MG Road, Sushant Lok, Galleria Market, Golf Course Road, South City, Sohna Road.

Check Availability for our Service Apartments in Gurgaon and make your Bookings online with transparent Pricing and no hidden charges with Special Discounted Offers for Weekly & Monthly Stays!

We have designed our Serviced Apartments as an alternate to business Hotels for Short/Long Stay Rentals of Corporate Executives, Leisure Travellers & Medical Tourists. These are independent self-catered and professionally managed properties, alternatively referred as Short Stay Homes or Short Term Rentals, Corporate Housing Gurgaon, Vacation Rentals, Extended Stay Hotels, Holiday Homes, Corporate Guest Houses, Aparthotels, Long Term Serviced Apartments and Relocation Accommodation among others.

O

live Service Apartments in Gurugram presents our collection of Fully studio apartment on rent in gurgaon that are Spacious, Comfortable and Well-Appointed Corporate & Leisure Serviced accommodation offering most facilities of business hotels at a fraction of their room cost! Our finely designed Service Apartment in Gurgaon are 2-3 times the size of standard hotel rooms, all units are architecturally designed for a spacious and comfortable longer stay living complete with individual fully loaded kitchens and dining table. Most serviced apartments have attached balconies with seating and also include LCD TV with Tata Sky plus a high speed Wi-Fi internet connection. They are backed by 100% power backup facility and 24 hour hot/cold water supply.

Common facilities at Olive Service Apartments at Gurgaon that are accessible for all our guests include a lounge room with 50″ Flat Screen TV, DVD player and Home Theatre System. A Pool Table, Table Tennis Table and Home Gym are also available for guest use.

All our Serviced Residences endeavour to provide an affordable extended stay living accommodation that gives our guest a feeling of home away from home. They are also the top choice for service apartment in gurgaon and Holiday Rental Homes as well as Medical Tourism guests visiting the city.

Medical Tourism Service Apartments in Gurgaon – We are also located at walking distance from the Fortis Hospital & MAX Hospital in Gurgaon. The Medanta Medicity Hospital in Gurgaon is also located at a short distance so if you are a medical tourist and looking for Service Apartment in Gurgaon near Fortis Hospital or Medanta Medicity Hospital in Gurgaon, Olive apartments in Gurgaon are the perfect choice!

Design & Layout of the Serviced Apartments – We have taken immaculate care to ensure that architectural design and layouts of all service apartment in gurgaon ensure that occupants can have a comfortable extended stay experience, complete with spacious living for home like comfort. The units have been defined with sections that accommodate individual facets of living – Sleeping, Working, Lounging, Entertainment, Cooking, etc. and merge together in a large residential unit that offers a living experience complete in all aspects.

Accommodation @ Olive
Service Apartment in Gurgaon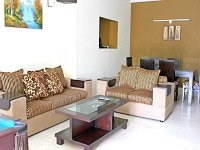 Living Area – Whole Lot of Space
* Living Comforts Matched only by Home
* Lounging sofas in all units with coffee tables
* Dining table with chairs
* LCD TV with Tata Sky connections
* Climate control with noiseless Split ACs and room heaters
King Size Beds with Premium Mattress in Bedrooms
* King size beds with 8″ premium mattress, side tables and table lamps
* Mix of Wooden & Marble Flooring with plenty of storage space
* Work desk with chair and reading lamp
* 32″ LED TV with Tata Sky connections
* Intercom system for service calls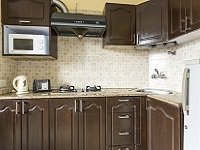 Fully equipped Kitchen in all Apartments
* Fully equipped kitchen in all units for cooking full meal
* Spacious granite counter with modular counter cabinets for storage space
* Latest Glen Hob & Chimney with piped gas connection
* All Appliances including Stovetop, Refrigerator, Microwave, tea/coffee maker, pots & pans, crockery, cutlery, napkins, etc.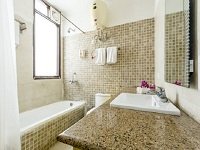 Bathrooms – Integral part of Living Experience
* Spacious bathrooms – comparable to four star hotels
* High levels of hygiene maintained at all times
* Bath tubs or Showers in all bathrooms
* High class fitouts with ceramic fittings
* Roomy closets with dressing areas as well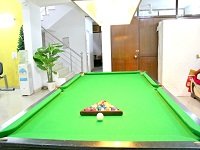 Recreation – Amalgamation of Work & Play
* Gaming Area with Pool Table, Table Tennis Table, Chess, Darts and Carrom Board
* Home Gym with Multi Trainer and Treadmill
* Lounge Room with Large Screen TV and Home Theatre System
* Plush Sofa seating and Lazy Boy combo as well
The Olive Service Apartment in Gurgaon property comes with many convenient common amenities and facilities such as:
* A warmly done up lobby/waiting area
* 24-hour full power back up and 24 hour water supply
* A laundry room with a washer and dryer.
* An RO system for 24 hour hygienic drinking water
* A lounging terrace with comfortable patio furniture – perfect for that lazy winter afternoon in the sun or that evening terrace party you want to throw.
Each of our Apartments is fully serviced to provide clean hygienic living:
* Daily cleaning/housekeeping service
* Bed linen and towel change service twice a week
* Morning Newspaper
* Regular pest control and fumigation service
* 24 hour on call valet service
* 24 hour manned security
* Airport pickup and drop off (Complimentary in Long Stay packages)
* Arrangements for sightseeing
* Optional in-house food catering on payment basis
* Business Center with computer/printer/internet/ telephone/fax/copying
Why book Service Apartments instead of traditional hotels in Gurgaon?
That is just the perfect question to ask us – before you book one of the traditional hotels or guest houses in Gurgaon, we urge you to consider our alternative accommodation. Our custom-designed Serviced apartments offer almost all the facilities and amenities of regular hotels, but with the additional space, comfort and complete privacy of your own home.
Moreover, with huge cost savings that any informed Corporate or Leisure traveler will appreciate, the Olive Service Apartments offer a unique and refreshing alternative to any regular extended stays hotels experience. While one can argue that business hotels provide certain perks including dedicated front desks & room service facility, our service apartment in gurgaon are generally twice the size of hotel rooms and include fully loaded kitchens plus self laundry facilities. We have also taken care to ensure that our serviced residences are located near the major business hubs and near the city center, so that offices, entertainment and shopping are at walking distance or a short drive away.
Service Apartments advantages –
* Size: Serviced apartments are typically 600+ square feet – twice the size of regular hotels or three times the size of budget guest houses in the city.
* Rooms: Our Serviced residences consist of 3-5 rooms, that include full kitchens and a lounge area. Traditional hotels have 1-2 rooms while guest houses generally offer 1 single room to book.
* Price: Service apartments always cost much less than business hotels. Moreover, your indirect savings also include food costs as you can cook your own meals besides laundry as we offer self-laundry facility in all our properties.
If you require any more information or have any other questions regarding our service apartments in Gurgaon, please do drop us a line and we will be glad to assist. But if you are all set to stay with us, then just go over to our Contact page and send us your booking request. We are looking forward to hosting you!
** NEW: We have recently opened our Jaipur Serviced Apartments that are ideal for guests who are looking for Golden Triangle Travel Packages – visiting Taj Mahal at Agra and the famous Forts & Palaces in the Pink City of Jaipur. Please contact us for arranging these weekend getaways from Gurgaon, we have special deals for all our current and past guests!